A list of some of the more popular reserves and parks in the Shires of the Wheatbelt. Granite rocks are other sites to explore. Camping is not allowed in nature reserves unless there is a sign to indicate it is permitted.
Beacon
Billiburning Reserve




Take the North Beacon Road from Beacon, continue along North Beacon road until you reach the Billiburning Rock turn off. Billiburning Rock is a favourite picnic spot. Near the Tampu Well (Location on North Beacon road turning left at Kuhl Road and then right onto Bimbijy Road). A good season results in white everlasting carpeting the ground as far as the eye can see. Some flora found at the reserve include: One-sided Bottlebrush and interesting orchids such as the sun and yellow spotted donkey varieties.
Mollerin Rocks




Travelling west from Beacon on the Bonnie Rock Burakin Road, turning left onto the Koorda Mollerin Road, and left again onto the Kulja Mollerin Road to Mollerin Rocks. Wildflowers of many varieties proliferate in the Koorda district, with dazzling colour displays on roadside verges. Many are particularly well adapted to dry conditions, with leafless branches, needle-like or waxy leaves and deep roots. Species of flora found at the rocks include Darwinia purpurea or Koorda rose, tinsel lily Calectasia grandiflora and many orchids.
Dowerin
Namelcatchem Reserve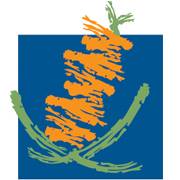 A 600 acre DPa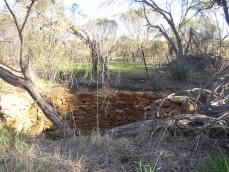 W Reserve 17 kilometres east of the town of Dowerin, at the intersection of the Cunderdin-Minnivale and Goomalling-Merredin roads. Still visible today are wagon wheel tracks made by travellers on their journey to the goldfields in the late 1800's.
Many species of wildflowers are found throughout the reserve – but please remember to leave only footprints and take only photographs.  Namelcatchem Well, situated about 100 metres within the Reserve, was initially used to provide water to miners travelling to the Goldfields.  It was later used to provide water for horse teams transporting wheat to Minnivale.  The well was built some time before 1865, making it the earliest European built structure in the area.  It held sufficient water for 70 horses.
Kellerberrin
Durokoppin Nature Reserve

27 kilometres north of Kellerberrin on the Kellerberrin – Bencubbin Rd this reserve contains a short walk outlining the impact that rising saline groundwater can have on bushland. A large reserve with stands of inland wandoo and heath land. Interpretation and picnic table available.
Kunnunoppin
Billyacatting Hill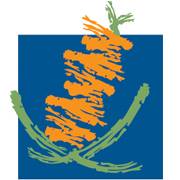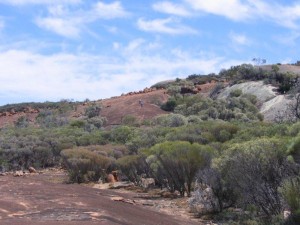 Billyacatting Hill is located along Kidd, Sutton and Billyacatting Road north of Kununoppin. There is a wealth of biodiversity at Billyacatting Hill where wildflowers and fauna are plentiful. A recently installed interpretive walk trail enriches your visit to this Park. A reasonable level of fitness is needed as a rock climb is involved. Allow about two hours for the whole walk.
Kulin
Buckley's Breakaway

Located 70 kilometres east of Kulin, off the Holt Rock Road with 11 kilometres of gravel road on-route to Wave Rock, Buckley's Breakaway is a picturesque landform where erosion has cut through the orange laterite and formed spectacular white cliffs and gullies from the underlying clay. The gully is dominated by Cypress Pine, Blue Mallet and Box Poison, but it is the top of the "breakaway" which carries the most interesting plants. It's the natural garden with something in flower all year round. In the shelter of the shrubs. Look for delicate orchids, trigger plants and sundews.
Macrocarpa Trail
Eucalyptus macrocarpa (Mottlecah) is the floral emblem of the Shire of Kulin and grows along the Kulin Corrigin Road. You can view the macrocarpa along the established Macrocarpa Walk Trail. The Macrocarpa Walk Trail is located one kilometre west of Kulin.
Merredin
Merredin Peak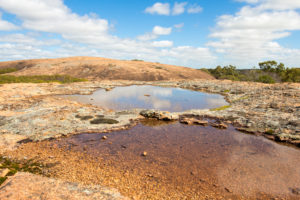 Located off Benson Road in the townsite of Merredin. Merredin Peak is a naturally occurring outcrop of granites that are about 2,700 million years old. The Peak is set in an area of woodland known locally as Merredin's National Forest. This 1200 hectares of woodland and sand plain country was originally set aside as a firewood reserve for the town residents. Over the years it was under threat to be converted to farm land. However, the Shire stood firm and it is now protected as a bushland reserve. Take the Merredin Peak Heritage Trail and explore the site of the Army Field Hospital. Interpretation on site.
Tamma Parkland

Located on South Ave and Endersbee St. The western and eastern fringes of this reserve are well worth exploring during the wildflower season. A variety of orchids including spiders, sugar, jack in the box, greenhoods and donkey orchids can be found. Flowering shrubs, red flowering mallee and other mallee species, drosera, hibbertia and hakea sp. A 1.2 kilometre easy walk trail with interpretation allows you to really appreciate the attractions of this small remnant patch of bush in the townsite.
Totadgin Conservation Park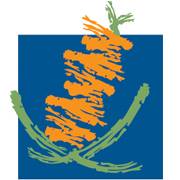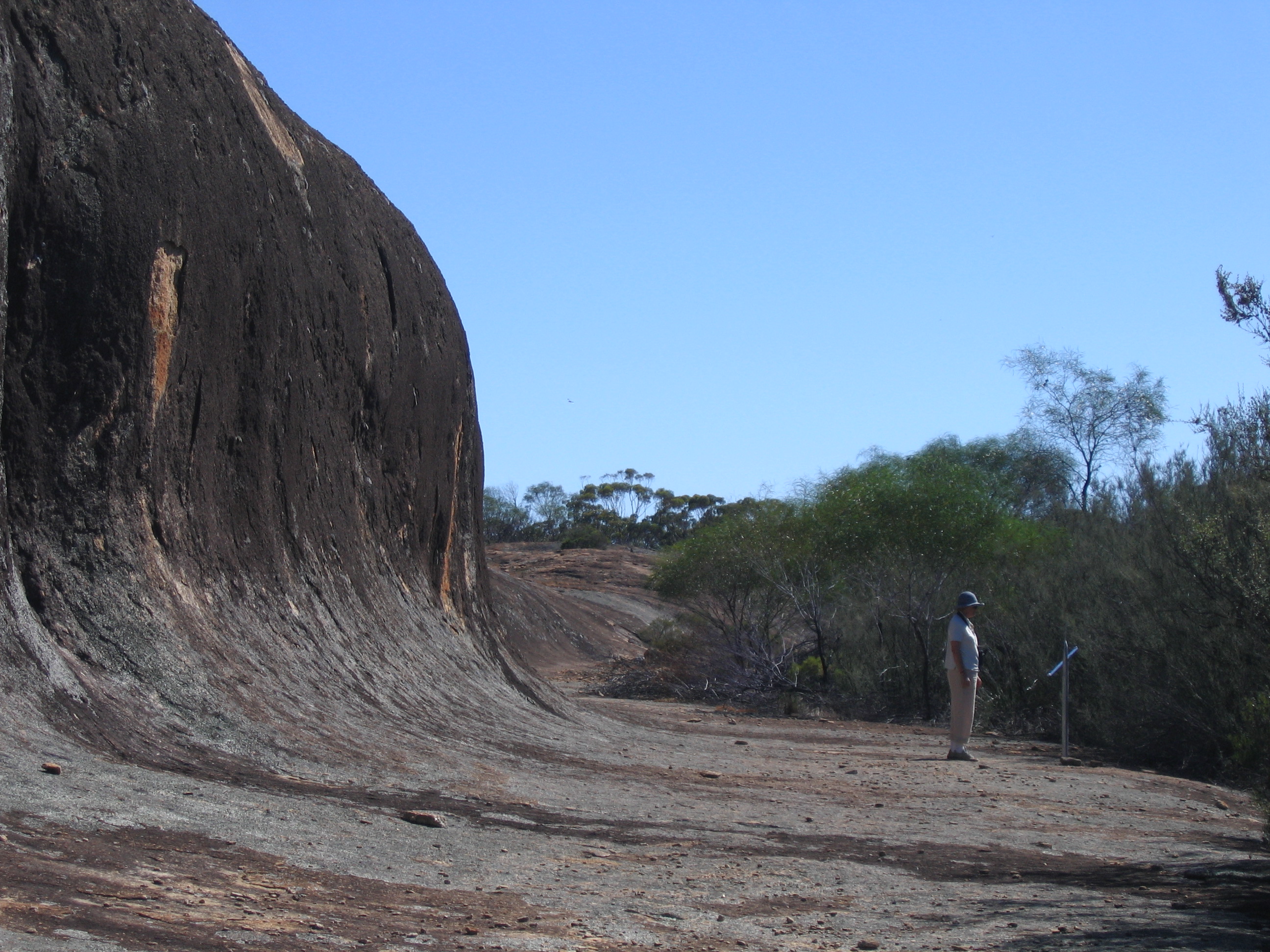 South of Merredin along the Merredin – Bruce Rock Road. Totadgin Rock has a walk trail with interpretation and is a good first stop to find out how granite rock outcrops are formed and about the unique habitats they create. Wildflowers in spring. A Golden Pipeline Heritage Trail Site.
Mukinbudin
Quantacutting Reserve
Located on the corner of Quanta Cutting Weira Road and Copeland Road, east of Mukinbudin. A granite outcrop with an interesting large circular gnamma hole. When flowering, the Kunzea pulchella can be found in both the red and white varieties.
Weira Reserve



Located 13 kilometres east of Mukinbudin on the Koorda Southern Cross Road and Stockton Road. Here you will see a breakaway area with gnamma hole. Barbeque and picnic facilities are available. Seek out the shy native orchids in the damp areas of the bush trail, also the Red-capped Robin.
Narembeen
Wadderin Wildlife Sanctuary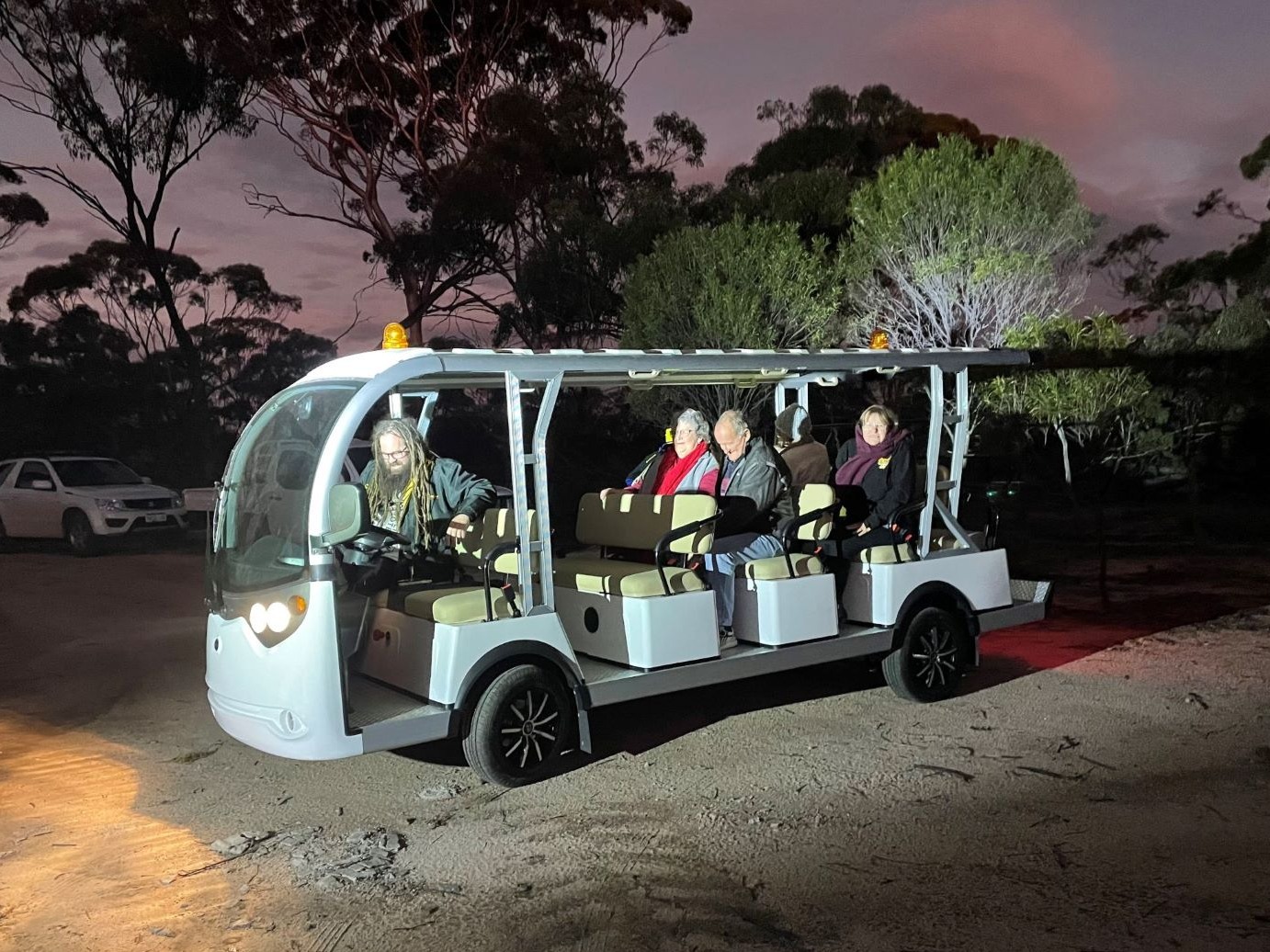 Wadderin Wildlife Sanctuary is 430 ha in size, enclosed by 9 km of fox- and cat-proof fencing and home to reintroduced fauna close to extinction in the WA Wheatbelt. Animals including the Red-tailed Phascogale, Brush-tailed Bettong (Woylie) Banded Hare-wallaby, Brushtail Possum and Southern Brown Bandicoot (Quenda) now thrive within the safe haven. The sanctuary is run by a local volunteer community group that undertakes ongoing maintenance and improvement to the sanctuary and runs night tours through DONATIONS within the sanctuary.
Our Tours are taken on an open electric bus at night so you can hear, see and experience the bush and the native animals that live in their own habitat first-hand. The entire tour takes about 1 hour, so you will need to allow a 1.5hr. A guide meets visitors at the Narembeen Roadhouse to lead you to the sanctuary where the electric bus is fully charged and waiting for your arrival.
Tours
Tours are available within the fence to view the nocturnal animals.  Book Online or email Wadderinwildlife@gmail.com
Nungarin
Talgomine Reserve/ Mt Moore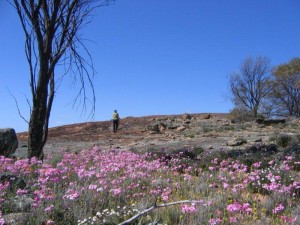 Situated on the Talgomine Road east of Nungarin this reserve features an area of York Gum / Jam Tree woodland that is a picture of pink, and later, yellow everlastings should the season be favourable. On the eastern border of the Reserve is a patch of heavier country where a variety of wildflowers and orchids attract those keen on the flora of the area. Climbing Mt Moore will reward you with an extensive view to the north with Lake Campion in the distance.
Tammin
Charles Gardiner Reserve

Situated 14 kilometres south of Tammin this reserve of 600 hectares contains a wide variety of wildflowers and understorey some of which are unique to the site.
Westonia
Chiddarcooping Reserve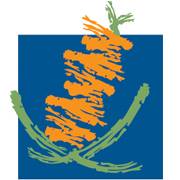 Chiddarcooping Reserve is a DPAW nature reserve covering 5,262 hectares of bushland. The reserve is abundant with unique flora and fauna and also contains granite outcrops, breakaways and pools. Chiddarcooping is located along the Warrachuppin road 50km north of Westonia. No camping .
Yanneymooning Reserve
Located on the corner of Elachbutting and Echo Valley Roads 75kms north of Westonia, Yanneymooning is a 513ha reserve comprising granite rock formations and bushland.
Offering spectacular views with a variety of bird life and flowers, The eucalyptus garden species "Silver Princess" in its natural state can be found on top of the rock cascading into the valley below. Bottlebrush flowers in October/November. Cowslip and Patricia's Spinder Orchid along with many others can be found at the base of the rock.
The abundant, ornate dragon lizard (Ctenophurus Ornatus) is an entertaining feature of the Yanneymooning Rock.
Wyalkatchem
Korrelocking Reserve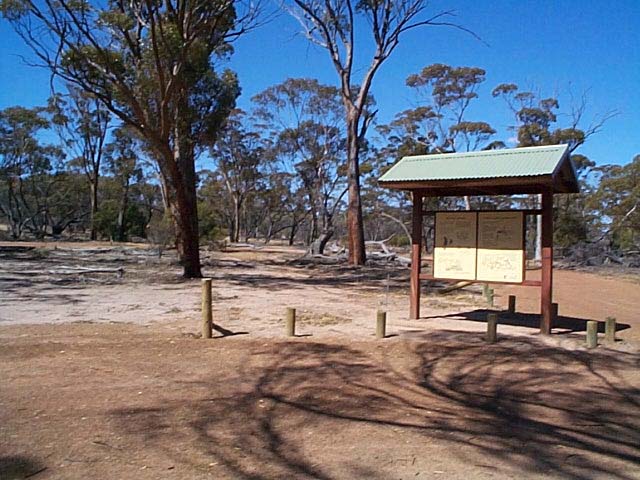 Korrelocking Reserve is dominated by a mature Salmon Gum and Gimlet woodland and is a sanctuary for kangaroos and other forms of animal and bird life. Birds include the Pacific Heron, Black-shouldered Kite, Whistling Kite, Little Eagle, Black-tailed Native-hen and Long-billed Corella.
The walk trail is to the North – East (approximately 40 minutes return) around a large granite outcrop surrounded by York Gum and Jam Trees. A  Melaleuca thicket surrounds a seasonal swamp on heavier soils in the south-western corner.
Wildflowers are in abundance during the months of August through to October.
Information on the area is available at the entry of the Reserve, along with parking, picnic tables and toilet facilities. Korrelocking Well (Historic) is a short walk from the parking area.