A number of interesting Self–Drive Trails offer delightful routes along which to explore the region.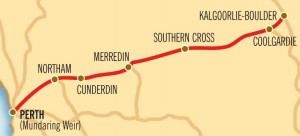 Duration: 3 to 5 days
Distance: One way to Kalgoorlie 650km
Road Conditions: Sealed road with short stretches of maintained unsealed road.
Accommodation: Bed and breakfast, camp sites, motels and caravan parks.
Hit the road to adventure as you follow the route of a really impressive engineering feat C.Y O'Connor's pipeline to Kalgoorlie.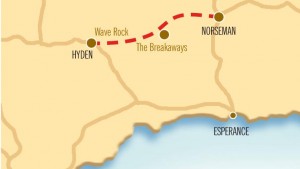 Duration: 2 days
Distance: 302kms
Road conditions: Unsealed
Linking Hyden (Wave Rock) to Norseman, explore pristine landscape – home to one of the world's greatest untouched temperate woodlands, with 16 interpretive sites.
Duration: 3 days
Distance: 670kms
Road Conditions: Sealed and unsealed
Seize the sprirt of adventure and head off along this 600km track, connecting Broomehill and the Goldfields town of Coolgardie. Carved out through rugged bushland by pioneer John Holland and his party, the track takes you deep into the Aussie outback.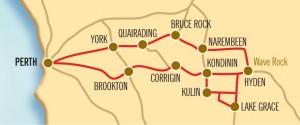 Duration: 3 days+
Distance: 760km
Road conditions: Sealed
Make your journey to Wave Rock an experience to remember. Enjoy country hospitality, natural bushland with wildflowers in season, spectacular night skies and an agricultural experience.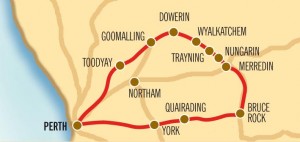 Duration: 2 to 4 days
Distance: One way Perth to Merredin 292km
Return via Bruce Rock – York 271km or Golden Pipeline Heritage Trail 260km
Road conditions: sealed road. Some unsealed to nature reserves.
Accommodation: Bed and Breakfast, caravan parks, camp sites motels.
Travelling from Perth to the Goldfields, or from the west to the east coast? Take a tranquil alternative to the busy Great Eastern Highway on a two laned sealed road through WA's Wheatbelt along the trail taken by the Goldfields' pioneers.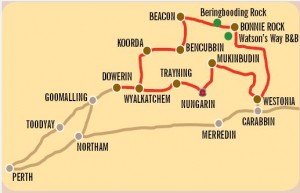 Duration: 3-5 days or more
Distance: Approximateley 800km-1,000km depending on the route taken
Road Conditions: Sealed road with streches of good unsealed road to rock and bushland features.
Where to stay: there are excellent caravan parks available in most towns, country Hotels, Bed & Breakfasts or why not camp out under the stars at our free camping areas
This journey offers a memorable contrast of open farmlands, large rocky outcrops surrounded by fascinating bushland, roadside floral displays in winter and spring with a profusion of bird and animal life.