Bruce Rock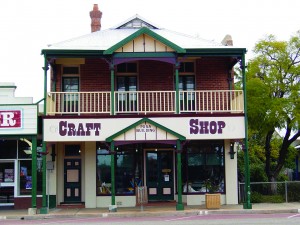 Bruce Rock Craft Shop
Local arts and crafts including Jams, honey, cakes and slices, knitted clothes, scarfs, blankets, potted plants and wooden toys.
Address: 36 Johnson Street, Bruce Rock
Phone: +61 427 806 460
Open: Monday – Friday 9:30 – 4:30pm, Saturday 9 – 12 pm
Corrigin
Corrigin Craft Shop
The craft shop sells local hand made crafts, ceramics, sewing, Jams and pickles and pottery.
Address: Goyder Street, Corrigin
Phone: +61 407 632 282 Dianne Talbot
Open: Thursday and Friday 10am – 3pm, Saturday 9:30am – 11am
Hyden
Katter Kich Gallery and Tours
KATTER KICH GALLERY AND TOURS has been created to showcase the history, art and storytelling of the first nations people of Hyden. The gallery has an amazing selection of art to buy and also houses some of our private collection. The gallery also has a studio for artists to create work to sell in the showroom.
Address: 36 Marshall Street, Hyden 6359
Phone: 0477 771 548 Michael Ward
Email: katterkichgalleryandtours@gmail.com
Wildflower Shoppe
The centre has a wide range of Australian souvenirs for sale including emu, tea tree and lanolin oils, Iron ore jewellery, wool products and clothing.
Address: Wildflower Shop and Visitors Information Centre Hyden
Phone: +61 8 9880 5182
Open: Daily 9am -5pm
Kellerberrin
Just Crafting Around
A store that caters for all your crafting needs and more.
Address: 80 Massingham Street, Kellerberrin
Phone: 0428 857 883
Open: Tuesday – Saturday 9am – 1pm
Kulin
Kulin Gallery & Studio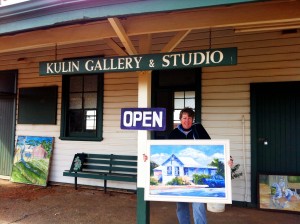 The gallery and studio is managed by Sharon Barndon. Come in and browse or purchase one of their beautiful pieces of artwork. Everyone is welcome and encouraged to come in and try their hand at pottery, painting any many other quirky and fun activities.
Address: Kulin Railway Station, Old Williams Kondinin Road, Kulin
Phone: Sharon Barndon – 0428 830 556
Open: Fridays 10:30am – 4pm (please phone Sharon beforehand to check if the gallery is open on the day you plan to visit)
Lake Grace
Lake Grace Visitor Centre
An excellent range of local handcrafts, art, photos and products inside the delightfully restored Post Masters residence.
Address: Stubbs Street, Lake Grace
Phone: +61 8 9865 2410
Open: Monday to Friday 9:00am – 5:00pm
Admission: Free
Merredin
Central Wheatbelt Visitor Centre
Seasonal display with a selection of enticing Wheatbelt arts, crafts, food items and publications from people with a passion for their crafts.
Address: 85 Barrack Street, Merredin
Phone: +61 8 9041 1666 or 1300 736 283
Open: Monday – Friday 8:30am – 4:30pm
Admission: Free
Merredin Fine Arts Society Gallery
Be sure to visit the Fine Arts Gallery and enjoy the many displays or art created by our talented
locals.
Address: 5 Queen Street, Merredin
Open: Thursday 9am -2pm & Saturday 9am -12pm
Nungarin
Studio Artisque Art Gallery
Gallery with artwork by local Natalie Veal. Devonshire teas and an assortment of rolls and sandwiches available.
Address: 62 Railway Avenue Nungarin
Phone: 0459 547 091
Open Sunday 9am-4pm, Monday to Wednesday 9am – 4.30pm
Westonia
Westonia Gallery Cafe
44 Wolfram Street Westonia
Phone: +61 8 9046 7200
Moblie: 0400212662
Email: pr@westoniagallery.com.au
Website: www.westoniagallery.com.au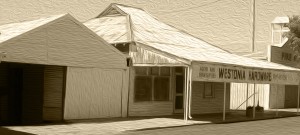 The gallery showcases art, photography, glassware & dichroic jewellery, handcrafted artisan items and other jewellery, including silver, opals, pearls & semi-precious stones. In addition to giftware and handmade cards there are fair trade products that vary from time to time and country to country.
Open: 8am – 2pm Thursday to Sunday, other days by appointment
Wyalkatchem
Wyalkatchem Cottage Craft
Local arts and crafts with devonshire teas available.
Address: Cnr of Railway Terrace & Riches St
Phone: +61 8 9681 1461 or +61 8 9681 1370
Open: Fri 10am – 12pm or by appointment