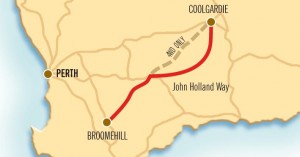 Duration: 3 days
Distance: 670kms
Road Conditions: Sealed and unsealed Roads
Day 1: Broomehill to Newdegate, 200km, 2.5 hours
For a dose of John Holland history visit the museum at Broomehill before hitting the road towards the town of Nyabing.
You'll pass by Lake Grace, a shallow salt lake with a suberb lookout over the surrounding countryside and springtime wildflowers.
Continue through rich farmland, taking in Holland Soak and Silver Wattle Hill before arriving in the town of Newdegate.
Stay overnight at the Holland Track Farm which offers guided and camping tours.
Day 2: Newdegate to Breakaways Camping Area or Sandalwood Camp, Approx 220Km, 3-4 hours
Explore Emu Rock before crossing the Rabbit Proof Fence. If you're in a two wheel drive, continue along the John Holland Way towards Coolgardie. Stay overnight at The Breakaways Camping area. For a real outback four-wheel adventure there is the option of the Holland Track beginning in Hyden. This route slices through natural bushland and past stunning rock formations. Camp out under the stars at Sandalwood camp.
Day 3: John Holland Way to Breakaways camping area to Coolgardie Approx 250km, 4-5 hours or
Holland Track to Sandalwood camp to Coolgardie, Approx 220km, 5-6 hours
Today we complete our epic journey through the remote outback – enjoy vistas of virgin bush, salt lakes, nature reserves and granite outcrops. The John Holland Way and the Holland Track meet up near Pigeon Hole Rock for the final leg to Coolgardie.
Spend a few days exploring Coolgardie's rich mining heritage.