Varley is located 40kms south of Hyden on the Brookton Highway.
Varley is a small community with the motto 'Great Place, Small Crowd'.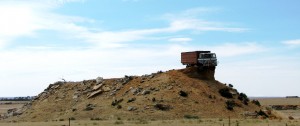 The town rabbit cemetery is the community's tribute to the rabbit plague of the 1920s that was a major pestilence to early farmers in the shire.
In the area visitors can travel from Varley to Hatters Hill or to the historic Rabbit Proof Fence that skirts the eastern end of the Shire. Gold was discovered at Hatters Hill in the early part of the twentieth century and the small settlement is now uninhabited and an interesting spot for fossickers. The town has a comprehensive museum established in 2001 with interesting displays of memorabilia and historic town records.
ACCOMMODATION
Chicken Ranch Caravan Site
17 Arthur St, Varley WA 6355
Stay is  24hr, by donation
The Chicken Ranch Caravan Site is a charming little stop over spot. There are inclusive toilet facilities (no showers). Please be sure to leave the area clean and tidy before departure.