203 kilometres east of Perth
ACCOMMODATION in Kellerberrin.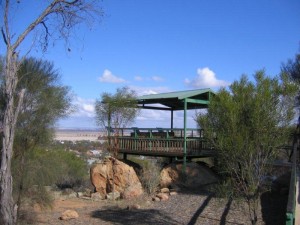 Wheat and sheep farming and the manufacture of agricultural equipment are the main industries of Kellerberrin located in the centre of the Wheatbelt region.
A drive to Kellerberrin Hill provides panoramic views of the town and surrounding region. A special treat is spring as the hill supports a mass of native wildflowers.  The heritage walk trail takes you through town past charming historic buildings, churches and the museum.
Centenary park provides a children's playground, pergolas and BBQ facilities.  Town services include cafes, butcher shop, supermarket and hotel.
Kellerberrin is at the heart of many natural attractions including Mt Stirling and Mt Caroline 25kms south, offering magnificent views of these giant granite outcrops.
For further information contact www.kellerberrin.wa.gov.au
Arts & Crafts
Just Craftin' Around
Massingham Street, Kellerberrin 6410
Opening Hours: Tuesday – Friday 9am-1pm, Saturday 9.30am-1pm
Phone: 0428 857 883
Email: justcraftinaround.kw@gmail.com
Food
Succulent Foods
102 Massisngham Street, Kellerberrin WA 6410
Phone: (08) 9045 5350
Email: succulentfoods@westnet.com.au
Opening Hours: Monday – Friday: 7am – 2pm, Saturday: 7:30am – 11:30pm, Sunday 9am -12pm
Kellerberrin Hotel
108 Massingham Street, Kellerberrin WA 6410
Phone: (08) 9045 5000
Email: kellerberrinhotel@outlook.com
Open: Lunch 12pm – 2pm, Dinner 6pm – 9pm, 7 days a week
Kellerberrin Pie shop & Bakery
72 Massingham st, Kellerberrin WA 6410
Phone: (08) 90454778
Open: Tuesday – Saturday 7.30am – 1pm
Kellerberrin & Districts Club
260 Connelly st, Kellerberrin WA 6410
Phone: (08) 9045 4103, 0488 067 359
Open: Thurs – Sunday 6pm – 8pm
Fuel
United Fuels Roadhouse
150 Massingham Street, Kellerberrin WA 6410
Phone: (08) 9045 5248
Open 24 hours
Chemist
Kellerberrin Pharmacy
92 Massingham Street, Kellerberrin WA 6410
Phone: (08) 9045 4306
Free Call: 1800 654 306
After Hours: (08) 9045 4454
Community Resource Centre
Kellerberrin Community Resource Centre
Massingham Street, KELLERBERRIN WA 6410
Tel: (08) 9045 4991
Email: coordinator@kecrc.org.au
Website: www.kellerberrin.wa.gov.au