HOTELS AND MOTELS

Merredin Motel
Gamenya Avenue
Merredin W.A 6415
Phone: +61 8 9041 1886
Fax: +61 8 9041 1336
Email: [email protected]
Website: www.merredinmotel.com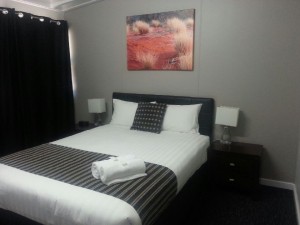 First inland built motel in Western Australia. All rooms have ensuites, fridge's, kettles, toasters, irons, air-conditioning, 42" flat screen digital tv's, foxtel and wi-fi. The Gumtree Restaurant offers a daytime restaurant and evening room service. Breakfast trays and a packed lunch are also available on request. The motel is located off the highway on Gamenya Avenue and is set amongst gumtrees. Guests have bbq facilities and lawn area.
Single: $125 plus $20 for an additional person
Queen: $135
Queen & Single: $155
Family: $220 for a family of 4, $20 for each additional person
Olympic Motel
Great Eastern Highway
Merredin W.A 6415
Phone: +61 8 9041 1588
Fax: +61 8 9041 3124
Email: [email protected]
Website: www.olympicmotel.com/

The Olympic Motel offers superior accommodation at affordable prices, with a choice of rooms to fit all your needs. All rooms have private ensuite, reverse cycle air-conditioning, 32″ LCD HD TV's all with Foxtel and High speed ADSL+2 business grade Wifi + Modem connection. Rooms also contain microwave, tea/coffeemaking facilities, toasters & BBQ access. Meals available from our onsite restaurant, Denzils. Plenty of free parking right outside your room. Located next to the BP Roadhouse on the Gt Eastern Hwy.
3 Bedroom Apartments available (similar nightly rates to motel – call for availability). Contain full kitchenette (stove, oven, grill), full laundry, BBQ, foxtel, aircon, 3 bedrooms. (fully serviced for long term).
Standard single: $130
Standard Double: $140
Standard Twin: $140
Deluxe Queen: $140
Deluxe King: $150
Family Unit: $145 for 2 plus $10 per adult or $5 per child under 12.
Deluxe 2 room unit: $150 for 2 plus $10 per adult extra.

Merredin Oasis Hotel

Great Eastern Highway
Merredin WA 6415
Phone: +61 8 9041 1133
Fax: +61 8 9041 1823
The first Motel on the Great Eastern Highway travelling from Perth. Lovely Motel Suites with private off street parking. Reception open 10am – 10pm daily.
Contemporary motel suites with a choice of King or Queen sized bedding. All motel suites come complete with 42inch plasma TV's fully airconditioned, private ensuite, microwaves, crockery, cutlery, glassware, kettle with tea and coffee making facilities, toaster & irons.
Studio's from only $99 per night and enquire about special longterm rates.
Merredin Plaza All Suites
149 Great Eastern Highway
Merredin WA 6415
Phone: +61 8 9041 1755
Fax: +61 8 9041 2366
Premier Motel suites specialising in corporate accommodation, group bookings and overnight stays. Reception open 12:30pm to 8:00pm
Merredin's premier accommodation with a choice of upmarket Motel Suites and 1 bedroom suites, airconditioned, with lounge area & dining room, private ensuite, 50inch plasma TV, microwave, refrigerator, toaster, kettle, crockery, cutlery glassware, hairdryers and irons.
Continental Breakfast boxes together with light refreshments available in reception.
Premier Motel Suites: $139
1 Bedroom Suites: from $149
Northside Tavern
58 Bates Street
Merredin WA. 6401
Phone: +61 8 9041 1635
Email:[email protected]
Located on Bates Street a short walk into town. Rooms with queen sized bed and shared bathroom. Restaurant meals available. Breakfast available on request.
Queen room: $ 90 per night
Single room: $ 60 per night
BED AND BREAKFASTS

Abbys Bed & Breakfast
30 Mitchell Street
Merredin WA 6415
Phone: +61 8 9041 3499
Mobile: +61 437 703 588
Email: [email protected]
Website: www.abbysbnbmerredin.com
Lovely country home in ideal location 5min walk to main street, train station, Cummins Theatre and shops. Train pick up if required. Coffee & Cake on arrival and Credit Card facilities. Wheelchair access and parking with ramp to home.
Three large bedrooms with Breakfast included. Other meals by prior arrangement.
1 Queen Bed and 1 x Single Bed with Ensuite: $180.
2 King Single Beds with Wheelchair access with shared Ensuite: $150 per person.
1 Double Bed with Bathroom: $170
All beds have electric blankets, wood fires in lounge and kitchen for a cosy winter stay. Coffee Machine, foot spas and hair dryers all available for use. Games, cards, bocce and books to read.
Merredin Bed & Breakfast
30 Bates Street
Merredin WA 6415
Phone: +61 8 9041 4358
Mobile: +61 417 221 909
Email: [email protected]
Website: www.merredinbedandbreakfast.com

Established in 2007.
Centrally located opposite Cummins Theatre. Homely ambience in 1930's former bank residence decorated to the period. Surrounded by lovely gardens. The Merredin Bed and Breakfast has four double and one queen room all air-conditioned. Use of kitchen, dining and lounge areas. TV and DVD in lounge area. Breakfast included.
Double: $180
Single: $160
Group rates by arrangement.
Apartments : 3 Self contained apartments are available which includes ensuite, kitchen, double bed and lounge area. Tariff on application.
SELF CONTAINED

Bates Street Apartments
34 Bates Street
Merredin 6415
Phone: +61 8 9041 4358
Mobile: +61 417 221 909
Email: [email protected]


Self contained apartments with kitchen, living area and bathroom. All apartments airconditioned with secure parking onsite.
1 x 2 bedroom apartment (sleeps 5)
2 x 1 Bedroom apartment
Tariff on application
The Lodge at Little Rock
Lot 2 O'Connor Street
Merredin WA 6415
(on Google Maps enter Lodge at Little Rock, Merredin, not Lot 2 O'Connor St)
Mobile: 0478 640 155 – Roy Butler
Email: [email protected]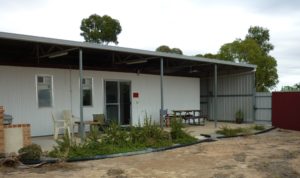 Self-contained, spacious unit on a sheep farm, one queen bed and one single in separate bedrooms. Additional bed (folding) available. Separate heritage (1984) caravan with two single beds, no ensuite, 70m from the Lodge also available. Quiet and private. Located 3km from Merredin. Kitchen facilities and gas BBQ available. Undercover parking at the door. Pet friendly, a kennel, large dog pen and large round yard for horses are available.
Maximum stay 10 days.
One Person: $90 per night
Two People: $100 per night
Three People: $110 per night
Four People: $120 per night
Five people: $130 per night
Westbrook Merredin
25 Dobson Avenue
Merredin WA 6415
Phone: 0428 416 666
Email: [email protected]
Website: www.westbrookmerredin.com
Westbrook Merredin offers two self-contained studios, offering guests private accommodation surrounded by over 3 acres of picturesque gardens and bush land.
Only minutes from the Merredin town centre.
Guests enjoy a complimentary continental breakfast.
Ideal quality accommodation for singles or couples, whether travelling for business or pleasure.
Single Guest Room Rates: $150 per night with Continental Breakfast included.
Couples Guest Room Rates: $165 per night with Continental Breakfast for 2 included.
CARAVAN PARK

Merredin Tourist Park
Corner Great Eastern Highway & Oats Street
Merredin W.A 6415
Phone: +61 8 9041 1535
Email: [email protected]
Website: www.merredintouristpark.com.au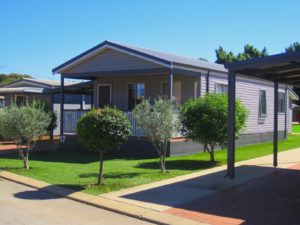 Catering for all visitors with accommodation for caravans and tents, work camp budget ensuites, 1 & 2 bedroom villas and our two bedroom luxury villas, the Merredin Tourist Park is a welcoming rest point on your travels. Located on the Highway just east of town we are easy to find!
Guest laundry, swimming pool and lounge area open during daylight hours over summer, comprehensive tourist information display and knowledge at reception with staff always happy to offer suggestions and advice. Our onsite accommodation options are fully furnished and self contained.
(Prices for 1-2 people)
Executive Chalets: 1 & 2 bedroom: $165
Luxury Villas: 1 & 2 bedroom: $155
Chalets: 1 & 2 bedroom $150
Studio: 1 Room $125
Extra person in above accommodation: $15
Budget Ensuite Rooms: Single: $85 double $110
Backpackers Single: $60
Powered Caravan Site: $35
Extra person: $5
Unpowered site: $28
Extra person: $5
5 x 2 bedroom units are also available in Yorrell Street for longer term stays. These have been renovated and each have two bedrooms with a queen size bed in each. Fully self contained with outdoor area and own washing machines. These units are rented on a weekly basis with a mid week service. Weekly Tarriff – $700 (1 or 2 people)